How To Ride On The Free WiFi Internet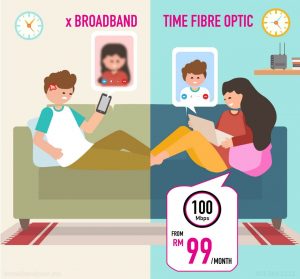 Share hotspot
What if your budget doesn't allow you to pay for a bigger data plan, but your best buddy could afford it? Good news! Your friend can turn his device into a WiFi hotspot and you can connect to it to send out a quick email. So, careful what you use it for though, or risk exhausting his quota and having him end up being somebody that you used to know!
Besides, some shopping malls provide free WiFi, which is open to the public. Of course, the speed may not be as great as TIME's 500Mbps (hahaha), but hey, it's free! Some complementary services like WiFi Smart Selangor may require a simple registration, while others are accessible right away!
GRAB SOME BYTES
In addition, some shops, cafes, or restaurants provide free wifi for customers to use and enjoy. It doesn't take a genius to know that many major food chains use free WiFi as a yummy carrot stick to draw us in. Leeching on free WiFi at these outlets may sometimes require a one-time registration. And if you're hanging out at an independent restaurant or cafe, there's no shame in asking the guy at the counter for the network name and password.
While there are ways to remain connected for free, but the public WiFi networks are mostly unsecured. So make sure you don't access sites that require sensitive data such as online banking user names and passwords, your personal private information, and other such valuable information.
no need to use and found free wifi anymore, no more wait, Faster Come and Apply TIME Broadband, feel the quality. Our Office Contact Number Call/ Whatsapp 0123682222. Enjoy the fast and no lag internet at home now!
How To Ride On The Free WiFi Internet