How We Bring The Fibre Broadband To You? | TIME INTERNET
We believe everyone deserves fast Internet and that fibre broadband is the way to go. Fibre optic cables are more secure, resilient and transfer data faster compared to traditional copper cables. We're proud to say that we've built our own 100% fibre optic network. Let's see how we get fibre broadband to your home.
Stringing fibre across utility poles: Electricity and telephone poles from Tenaga Nasional (TNB) and Telekom Malaysia (TM) already take up too much space along the streets. We haven't been able to get access to their poles and there isn't room to add ours in order to serve landed areas. We don't want to rent TM's existing network as we wouldn't be able to control quality and speed. Our 100% fibre broadband network runs purely on our own infrastructure and so does our submarine cable network, which connects to the global Internet across four continents. We believe that's what sets us apart.
Laying new ducts and fibre: A lot of work is involved in laying fibre underground. We would have to dig up the road, lay the fibre and duct and cover it up again. Because of the scope of work involved and the disruption it causes to residents, such as noise and traffic, the approval process from town councils and resident's associations is much lengthier.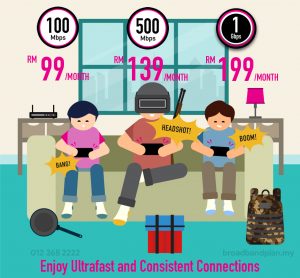 OTHER FACTORS THAT DETERMINE COVERAGE EXPANSION

The management of your building is also a factor in determining whether we can bring fibre broadband to you. Support from tenants is key to us getting access from building managements if they are keen on receiving our fibre broadband. If enough tenants of a building convince the management to write to us and request for our fibre broadband, we try to prioritise those applications as it means we already have permission to enter. So get more of your neighbours and building management to support you!
High-rise buildings: Fibre runs through the main 'spine' of a high-rise building, so wiring a single building allows us to service multiple units at once.
New landed developments: Fast Internet is essential for a digital lifestyle and this can only be achieved with the availability of fibre. As demand grows for fibre infrastructure to support high-speed Internet, developers are building fibre ducts and laying fibre in new townships in order to provide this basic utility to their homeowners. This makes it much faster for us to deploy our service in those areas. With older landed properties, since we aren't able to plant new poles, we have to dig up a far longer stretch of road to lay fibre to each individual house. This is much more disruptive and as a result, it's much harder to get approval from town councils and it takes much longer to deploy our service.