Bring home the latest devices
Get a brand new Samsung 60″ 4K TV. OPPO Pad Air and more with Maxis Home Fibre
Bring home more joy with Maxis Home Fibre
Turn ordinary play into magical moments, and find joy in every corner.
Bring home the latest devices
Bring home more joy with Maxis Home Fibre
With a better home experience, comes more joy
Enjoy faster WiFi speed with WiFi 6 router
Supports more connected devices.
Easy-to-own latest devices with Zerolution
Choose from a wide range of home devices.
Wider WiFi coverage, optimised by Maxperts
Uninterrupted internet in every room with whole home coverage.
We have a home fibre plan to suit any home internet needs
AVAILABLE FOR ALL PLANS​:
Unlimited data
Local voice calls – Pay per use. Add RM10/mth for unlimited calls. Free DECT phone for new customers on unlimited voice calls.​
Let's check if your area is covered
Bring one of these devices home
SAMSUNG 65″ QLED 4K TV
RRP RM 6399
SAMSUNG 65″ 4K UHD TV
RRP RM 4599
SAMSUNG 50″ 4K UHD TV
RRP RM 2999
SAMSUNG 43″ FHD TV
RRP RM 2099
Choose any of the following devices offered with Maxis Fibre at affordable monthly installments click here
Sign up for Maxis Home Fibre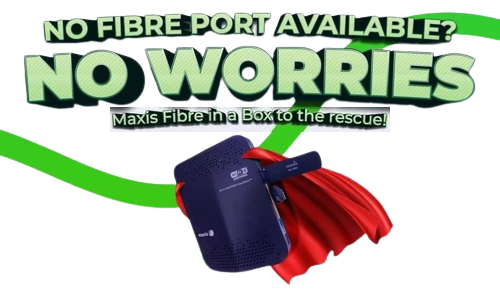 Leave us your details and we'll contact you