Description
Halaman Damai | Time Internet Speed Up To 1GBPS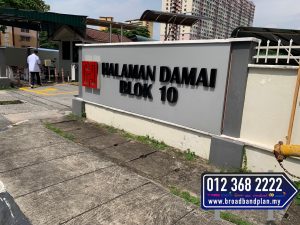 Halaman Damai is a freehold apartment complex located at No. 9 – 10, Lintang Kampong Rawa 1, 11600 Georgetown, Penang, Malaysia. It has 223 units spread out over 2 blocks of 12 stories. The built up area is 720 sqft per unit. Facilities offered include covered parking and 24 hours security service with guardhouse.
There are a few schools in the area like Penang Japanese School, SJK Moh Ghee and SJK Sum Sun. Penang Japanese School is the closest and is situated along Jalan Sungai Pinang, about a 10 minute drive away. The other two schools are located along Lorong Perak and are about a 20 minute drive from the apartment, provided traffic conditions are good. There is a clinic across the road from SJK Sum Sun. The nearest shopping mall is Penang Times Square and it is situated along Jalan Dato Keramat. Residents can access it by driving along Jalan Patani, which runs behind the apartment, and make a right at the intersection before Jalan Siam.
Halaman Damai JMB Building Management Contact: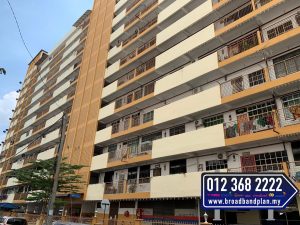 Halaman Damai | Time Internet Speed Up To 1GBPS
In addition, Halaman Damai is a good and best environment, the equipment is also complete and good. Furthermore, staying in this nice place will feel very comfortable and relax and with the high-speed internet because stay here you can get the internet speed up to 1000mbps! That is TIME Internet! With the fast internet, it will be more perfect to you, your family or your friends! More residents already apply the TIME Internet for their home, it is cheaper price also can get high-speed internet. Besides, Nice environment plus the high-speed internet, that is the best experience!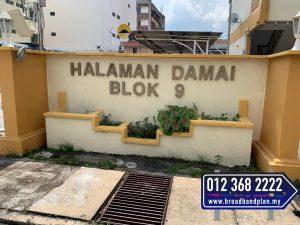 Halaman Damai | Time Internet Speed Up To 1GBPS
High-speed fibre broadband to do everything you love online.
it is also No lag, no limits, no sweat.
Free dual-band WiFi router.
Expert service & fast installation.
Submit your location, check providers availability, and apply instantly with us. For more details and internet plan
OR WhatsApp / text / call 60123682222
Our Specialist will contact you.