Description
Iconic Skies | Time 100% Fibre Home Internet Service
Iconic Skies is a freehold condominium situated off Jalan Paya Terubong, Relau in Penang. The development contains two condominium blocks, A and B, as well as 14 villas with three and a half storeys each. One of the condominium blocks has 37 storeys while the other one is 35-storey tall. The built-up areas of the condo units range from 760 square feet to 2,976 square feet.
The facilities found in Iconic Skies include a Jacuzzi, BBQ area, games room, multi-use hall, gym, fitness corner, lounge , changing rooms, pavilion, steam bath, sky bridge, wading pool, sky garden, putting green children's playground, reading lounge, landscaped pavement, swimming pool, management office, guest lounge, lift lobby, car parking lots, and 24-hour security with 3-tier security system. Iconic Skies is easily accessible through Jalan Paya Terubong which connects the property to other established areas in the vicinity through Jalan Tun Sardon as well as Jalan Tun Dr Awang.
Iconic Skies JMB Building Management Contact: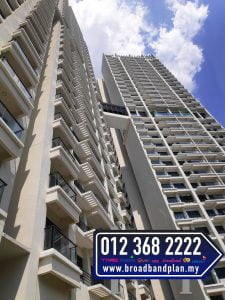 In addition, do you know guys. Stay at Iconic Skies you also can get and experience the fast internet at you home because stay here you can get the Fibre Home Internet speed up to 1000mbps (1 Gbps)! That is TIME Internet Service! If you are looking for the home with the cheaper and high-speed internet, yes, try the TIME Internet! It is cheaper also can get high-speed internet broadband to enjoy what you love to do online. The 100Mbps only RM 99! Besides, most of the residents are already apply and using the TIME Internet for their home. They also feel satisfied with the high-speed internet. So, the residents that don't install the internet at home yet, come and try the TIME Internet, install the fast internet at home now.
Iconic Skies | Time 100% Fibre Home Internet Service
We hope you folks are ready for speeds of up to 1000Mbps!
100Mbps ONLY RM99
So, come and Submit your location, check providers availability and apply instantly with us.
OR WhatsApp 60123682222
Our Specialist will contact you.