Subscription | TIME Fibre Internet Broadband Coverage
What information is required for a subscription?
MyKad (Front & Back) / passport for non-Malaysians
The full address for installation.
Email address & Contact number
The package you want to apply.
Can I upgrade or downgrade my plan anytime & got any charges?
Of course! You can modify your plan in the Account Info section in Self Care. Do note that you do not allow downgrading your plan within the first 6 months of your contract tenure. There are no penalty charges for plan modifications, but any discounts you may currently be enjoying will not be carried over to your new plan.
How do subscribe to TIME Fibre Home Broadband?
You can contact/Whatsapp 0123682222 and you will get our officer to explain to you the more internet details and you can ask the questions that you don't sure & don't understand.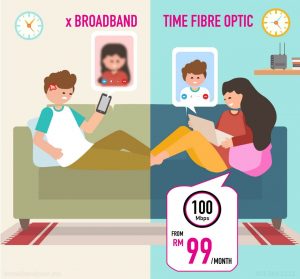 What fees do I need to pay if I decide to subscribe?
Normally no need to pay any fee, because the installation is free, but if non-Malaysian need to pay RM500 for the deposit first. Fully refundable upon service cancellation, if it is no outstanding balance in your account.
Can I transfer my subscription to another person?
Yes can, but this service is only available for the 24-month contract plan. So, to make a request, can contact TIME customer service 1800181818.
Can I terminate my subscription at any time?
Yes, you can. However, 24-month contract plan subscribers will incur a penalty of RM500 if they choose to terminate within their contract term.
How do I terminate my subscription?
Contact customer service 1800181818 and they will send you a service termination form, which you will have to complete. Furthermore, for 24-month contract plans, a one (1) month termination notice is required.
How do I relocate my broadband service?
This service is only available to 24-month contract plan subscribers. Just log on to your Self Care account and select 'Relocation Services' from the dropdown menu when you click on the logo settings
 button.
In addition, if you are relocating to somewhere outside your current building, don't forget to bring your devices along! Make sure to check that your new address is within our coverage area.
Besides, relocation fees are RM120 and will reflect in your next bill.
No more wait, Faster Come and Apply TIME Broadband, feel the quality. Our Office Contact Number Call/ Whatsapp 0123682222
Subscription | TIME Fibre Internet Broadband Coverage