taman bukit pelangi management
JMB TAMAN BUKIT PELANGI
Building Management
Office Contact Number:

03-86013928


Email:

tbp.mgnt@gmail.com


No.0-14(12-A), Block Suria C, Jalan TBP 1, Taman Bukit Pelangi, Off Jalan Batu Tiga Lama, 47610 Subang Jaya, Selangor.
For further details!!
ABOUT TAMAN BUKIT PELANGI PLACE
The Management Manager is a very helpful and nice person, been help many residences get out from slow internet connection and introduce to use TIME Broadband with unlimited high-speed broadband. In addition, The management was managed well with all Residential & Visitor Management Simple & Secure about the Internet.

Taman Bukit Pelangi is a well maintainted located at Subang Jaya, Selangor.
After that, Taman Bukit Pelangi @ Subang Jaya known for its affordability, luxury living, and land appreciation rate.
Most importantly, Taman Bukit Pelangi strategically located in the heart of the city with an intention to provide excellent convenience to the residents.
Secondly, Taman Bukit Pelangi offers many great facilities for their resident.
For example, Taman Bukit Pelangi has Barbeque Area, Gymnasium room, Launderette, Nursery, Playground, Reading Room, 24 hours security, Surau (Male & Female), and Swimming pool.
However, The residents of Taman Bukit Pelangi @ Subang Jaya will never have to face traveling issues as the place is close to major roadways.
Thirdly, Taman Bukit Pelangi residents can hang out at nearby vibrant malls just take within 2 km to 7 km to go to the mall.
Besides that, Taman Bukit Pelangi also closes to the school within 1 km to 7.5 km from the building.
Moreover,  residents can visit Malaysia's famous Shah Alam Royal Theatre with a 7km drive away.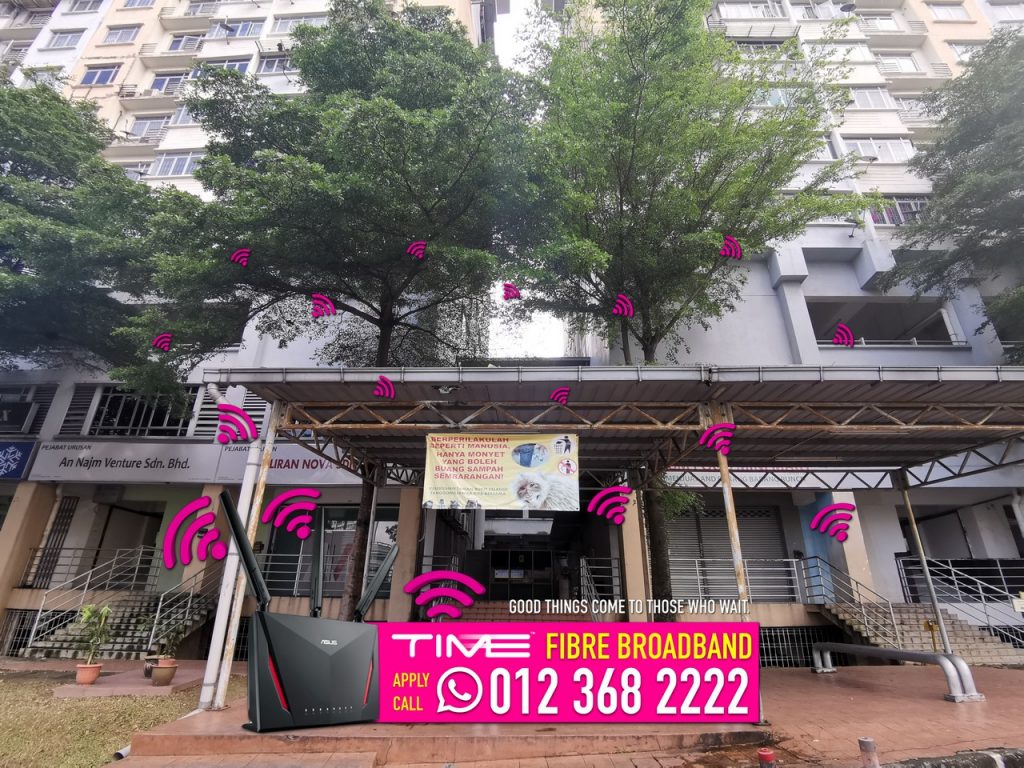 Lastly, Taman Bukit Pelangi @ Subang Jaya includes a large area of 2 blocks with fourteen floors in each block.
After that, All Units include three bedrooms and two bathrooms. Every room of a Unit comprises pre-mounted ceramic flooring,
Most importantly, Taman Bukit Pelangi very comfortable place to stay with your family.
WHAT DO WE PROVIDE?
Fastest Speeds (Why bother with slower speeds? Get up to 1Gbps now.)
Only a full-fiber network can ensure higher speeds and better stability.
Enhance your experience with TIME Devices, made for gaming, connectivity, and better speeds!
Expert Installation-Our team of Tech Ninjas is the best to support your installation and WiFi needs.
ENJOY WITH THE TIME PACKAGE!!!

Faster come and apply TIME Broadband at Cova Square feel the quality. Our Office Contact Number call / Whatsapp 0123682222.
taman bukit pelangi management